2005(3)
2004(2)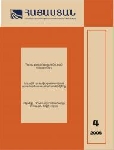 06.10.2005 "Armenia" N 4, 2005
In this issue are represented Sargis Harutyunyan's articles devoted to Armenian ideological grounds, historico-philosophical aspects of national ideology, "East-West" problems in Russian literature and in Russian mentality as a whole. In these articles special attention is paid to Njdeh's studies concerning to forming of national character, national self-recognition, strengthening of Armenian spirit, as well as Hayk Asatryan's comparative analyses of East-West system of values.
---
29.07.2005 "Armenia" (special issue)
The special issue of the bulletin "Armenia" is devoted to the 90th anniversary of Armenian Genocide. The articles of the issue represent the historic chronicle of these events, here are also analyzed the motives and consequences of the Genocide, the process of its international recognition also in the context of Armenia's foreign policy and international law, are drawn parallels between the Holocaust and the Armenian Genocide.
---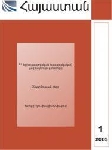 03.02.2005 "Armenia" N 1, 2005
The articles published in this issue investigate the problems and peculiarities of social youth organizations and the role of organized youth in society. There is also a touch upon the political opposition, especially pointing out its role in the transitional political system.
---
18.10.2004 "Armenia" N 2, 2004
The articles of this issue are dedicated to current problems of woter resources in the context of Kharabakh conflict, according to NGR hidro-security Karvachar and Kashatakh have a core role in this problem . Here are also represented some problems of food security and agriculture in AR.
---
14.10.2004 "Armenia" N 1, 2004
In the articles of this issue are discussed the main problems concerning to Armenin's social sector, the activities carried in RA by international organizations, educational reforms. Here are also represented annual informative materials on indexes to economic freedom of «Heritage Foundation» for 2003, where you can also read about some estimations of democratic processes in Armenia.
---