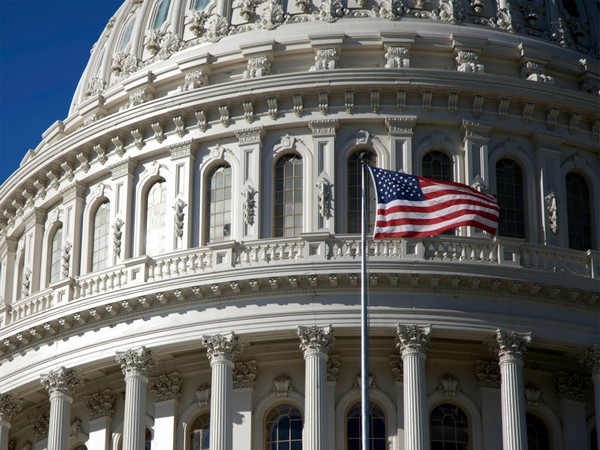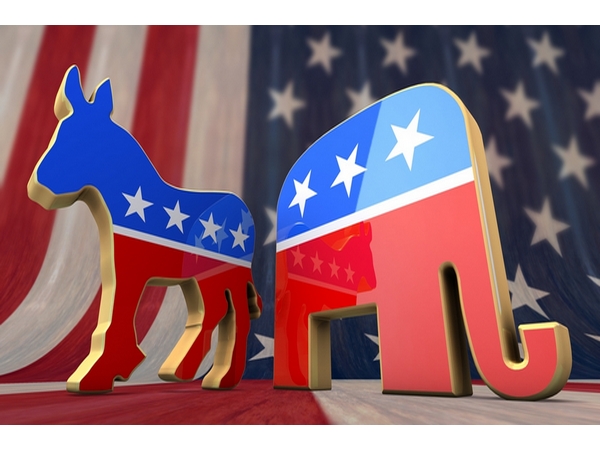 19.10.2016 ONCE AGAIN, THE FRENCH LEGISLATURE BANS DENIAL OF THE ARMENIAN GENOCIDE
By Harut Sassounian
Both Houses of the French Legislature have once again adopted a law that penalizes the denial of genocides recognized by French or international courts, or the denial, minimization or extreme trivialization of other genocides or Crimes Against Humanity, if accompanied by incitement to violence or hatred. The French Senate approved the new law by a vote of 156 to 146 on October 14, following the Parliament's approval by a vote of 305-157 on July 6. The law will go into effect after Pres. François Hollande signs it, which he is committed to do.
11.10.2016 MORE BENEFICIAL TO SUPPORT MEMBERS OF CONGRESS THAN VOTE FOR PRESIDENT
By Harut Sassounian
There is widespread dissatisfaction and mistrust among the American public toward the two main presidential candidates: Hillary Clinton and Donald Trump. Armenian-Americans likewise are negatively disposed toward these candidates. More specifically, on Armenian issues Mrs. Clinton has shown that she cannot be trusted, while Donald Trump's position is unknown.
28.09.2016 CAMPAIGN CONTRIBUTION…OR LEGAL BRIBERY?
By Harut Sassounian
This column is mostly intended for readers outside the United States who may not be familiar with U.S. campaign contribution laws. Interestingly, even Americans are often confused about the complex regulations regarding limits of political contributions that are different in local, state and federal elections.
15.09.2016 PAN-TURANISM, NOT ISLAM, MOTIVATED THE ARMENIAN GENOCIDE
By Harut Sassounian
A recently published book "Remembering for the Future: Armenia, Auschwitz, and Beyond," edited by Michael Berenbaum, Richard Libowitz, and Marcia Sachs Littell, is a collection of scholarly papers delivered at a conference held at the American Jewish University in Los Angeles, March 8-11, 2014.
13.09.2016 SITUATIONAL AWARENESS IN UNMANNED AERIAL VEHICLE (UAV) INFRASTRUCTURES
David Davidian
Collaboration and sharing of data across the command structure continues to be a crucial factor in UAV systems. What was once a simple command console is now challenged by the number of simultaneous, in-theater UAVs, and the enormous increase in telemetrics, especially high quality video and Synthetic Aperture RADAR (SAR) data that must be assimilated and shared for maximizing and optimizing the infrastructure's effectiveness.
08.09.2016 TURKEY CONSPIRED WITH ISIS IN ITS DECEPTIVE INVASION OF SYRIA
By Harut Sassounian
Syria has been the hub of shifting international military and political intrigues since the start of the 'civil war' in 2011. The diverse conflicting sides include: Hezbollah, Iran, Islamic State (ISIS), Israel, Jordan, Kurdish fighters, Lebanon, Qatar, Russia, Saudi Arabia, assorted terrorists from around the world, Syria, Syrian opposition groups, Turkey, the United States, and other NATO states.
05.09.2016 CHINA AND SYRIA
by Thierry Meyssan
Although we don't know the details of what was agreed between the Chinese and Syrian armies, the existence of an agreement between them has modified both the battle-field and the balance of international relations. Last year, the Anglo-Saxon secret services broadcast a number of hair-brained interpretations of this same subject – today, Thierry Meyssan gives a precise analysis of the important points.
02.09.2016 KURDS FEEL WRATH DURING EXTENDED TURKISH PURGE
In the shadow of a countrywide purge and campaign of arrests following last month's failed coup d'etat, Turkey has escalated its operations in restive Kurdish districts. Around the country, in bus stations, on billboards and in the media, ads have been pulled down and replaced with images of the Turkish flag and slogans pledging allegiance to the nation. On August 7th, a huge rally in Istanbul saw the leaders of three major political parties – once opponents – share a stage to declare the importance of protecting the state.
06.10.2016 INTERNATIONAL SCHOOL ON GLOBAL SECURITY
International School on Global Security was organized by the Russian Center of Political Studies (PIR Center) and Diplomatic Academy of the Ministry of Foreign Affairs of the Russian Federation from September 24 to October 2, 2016 in Abramtsevo, Russia.
13.09.2016 MOTHER TERESA'S REAL NAME WAS AGNESSA BOYAJIAN
Mother Teresa… Very few know that this woman's real name was Agnessa Boyajian. She was an Armenian. She told about it to Catholicos of All Armenians Vazgen I during her visit to Armenia in 1988 after the disastrous earthquake.
08.09.2016 INTERNATIONAL CONFERENCE ON STATE GOVERNANCE IN INFORMATION AGE
International Conference on State Governance in Information Age organized by Chinese Academy of Modern International Relations took place on August 29-30, 2016 in Qingdao, China.
06.09.2016 EURODIALOGUE, VOLUME 3, FROZEN CONFLICT AND SELF-DETERMINATION
This Publication is based on the International Conference "Conflicts and the right to Self-determination" organised in the European Parliament (Brussels - Belgium), by the Member of the European Parliament Dr. Eleni Theocharous, on the 3rd of June 2015, in cooperation with the Jagellonian University of Krakow, the Louvain-la-Neuve University and the American University of Beirut.
10.06.2016 TWO NEW CHEMICAL ELEMENT IN THE PERIODIC TABLE WILL BE NAMED IN HONOR OF THE MOSCOW REGION AND ACADEMICIAN YURI HOVHANNISYAN
International Union of pure and applied chemistry (IUPAC) announced on introduction of four new chemical elements in the periodic table. Two of them will be named in honor of the U.S. state of Tennessee and Japan, and two more got their names because of the scientific Institute in Dubna near Moscow and a scientist of Russian Academy of Sciences Yuri Oganessian.
18.05.2016 THE FRENCH-ARMENIAN BUSINESS SOCIETY
The French-Armenian Business Society is organizing the Armenian-International Business Forum in Paris, on October 15, 2016, at the Napoleon hall of the Westin Paris-Vendôme hotel.
17.05.2016 VATICAN REVEALS UNPUBLISHED ARMENIAN GENOCIDE DOCUMENTS FROM ITS SECRET ARCHIVES
The chilling testimonies will be published in a book. The news came during the presentation of the "Lux Arcana" exhibition which will display the treasures of one of the world's oldest archives.
05.04.2016 A NEW SYSTEM FOR MANIPULATING INFORMATION IS CREATED
President Obama has decided to replace the «Center for Strategic Counterterrorism Communications», created in 2011, by a «Global Engagement Center». To that end, on the 14th March 2016, he signed a secret decree – but a copy is already in circulation (see document below).
20.10.2016 MEETING AT NORAVANK FOUNDATION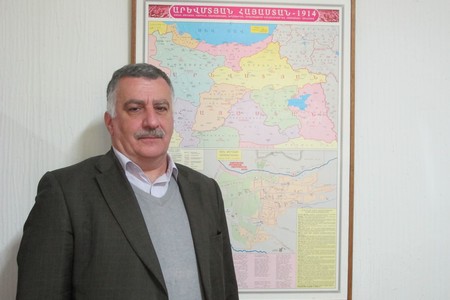 A meeting with participation of Vahan Babakhanyan, Representative of the Armenian-Russian Association of Saint Petersburg and Leningrad Oblast, and Gagik Harutyunyan, Executive Director, Noravank Foundation, took place at the Foundation on October 19, 2016.
14.10.2016 PANEL SESSION OF THE NORAVANK FOUNDATION RESEARCH COUNCIL
Panel session of the Noravank Foundation Research Council took place on October 12, 2016. The agenda included the reports on the following business trips of the Foundation's staff: Executive Director G. Harutyunyan's trip to Rhodes and Athens from September 29 to October 6, 2016, Council Member J. Melikyan's trip Rhodes from September 29 to October 1, 2016, and Deputy Director V. Atoyan's trip to Abramtsevo, Russia from September 23 to October 3, 2016.
13.10.2016 14th ANNUAL SESSION OF THE WORLD PUBLIC FORUM DIALOGUE OF CIVILIZATIONS ON RHODES ISLAND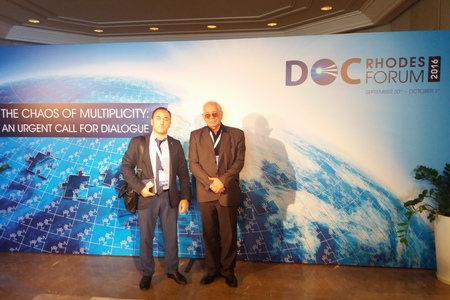 14th Annual Session of the World Public Forum Dialogue of Civilizations (Rhodes Forum 2016) was held from September 30 to October 1, 2016 on Rhodes Island, Greece, organized by Dialogue of Civilizations Research Institute headquartered in Berlin, Germany. The forum rubric was The Chaos of Multiplicity: An Urgent Call for Dialogue.
11.10.2016 MEETING AT NORAVANK FOUNDATION

A meeting with participation of Jiraïr Tcholakian, Chief Editor, Nor Haratch newspaper of Paris, France, and Gagik Harutyunyan, Executive Director, Noravank Foundation, took place on October 7. 2016 in Noravank Foundation.