Mr. Harutyunyan, the whole world's attention today is focused on the events in Ukraine. What do you think about these developments?

Indeed, there are multi-level complicated processes going on in Ukraine. One of the levels is the societal factor. Undoubtedly, the Ukrainian society wasn't happy with the quality of governance in the country and its leadership in the person of Yanukovych.
06.03.2014 THE ARMENIAN SCIENTIFIC AND ANALYTICAL COMMUNITY IN THE USA
Arestakes Simavoryan
Currently the USA is the world leader by the number of "think-tanks", "intellectual output" and other similar aspects. These structures are unique in terms of their activities and they significantly differ from academic institutions. The "intellectual outputs" produced by the "think-tanks" (TT), i.e. practical political expertise, analytical research and fundamental works, differ by their strategic vision of world processes, which is based on achieving desirable outcomes through political and economic changes.
03.03.2014 HACKER ACTIVITY BETWEEN ARMENIA AND AZERBAIJAN
Samvel Martirosyan
In January 2014 a number of hacker attacks on Armenian and Azerbaijani websites took place. On one hand, it was a part of the series of attacks traditionally launched every January, and on the other hand it was different in terms of some qualitative and quantitative changes. It is obvious that new hacker groups are formed in Armenia, which act only against the Azerbaijani sector of the internet.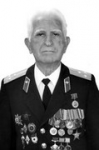 25.02.2014 THE CORRIDOR FOR EXIT OF PEACEFUL POPULATION FROM KHOJALY
I.G. Gukasov
Intentional creation of a corridor for exit of peaceful population from Khojaly pursued several objectives. First, showing humanism towards peaceful population and preventing casualties among them would have won their sympathies and demonstrate that we do not fight with peaceful civilians, but rather, with an armed adversary, firing by which forced the Armenians to defend themselves.
20.02.2014 THE LIMITS OF TURKEY'S INTEREST RATE HIKE
With a dramatic hike in Turkey's overnight lending rate from 7.75 to 12.5 percent announced on Jan. 28, Turkish Central Bank Gov. Erdem Basci followed through on his earlier promise to use interest rates as a weapon to defend Turkey's currency, the lira. While the hike is a bolder-than-expected move designed to jolt investor interest, Basci is still, in effect, using a sword to fight off a barrage of artillery as a wrenching political crisis continues to erode investor confidence.
17.02.2014 ARMENIAN POLICY OF REMEMBRANCE IN THE EPOCH OF GLOBALISM
Mihran Dabag
Karl Marx had once noted: "Interest has no memory, for it thinks only of itself" [1]. Whoever does not remember about oneself, thus effectively forgetting historical prerequisites of own actions, may pursue one's own interest ruthlessly and without any regard to the consequences.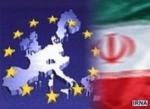 17.02.2014 EUROPE'S ROLE IN RESOLVING THE IRANIAN PROBLEM
Vladimir Yevseyev
Since 2003, the Iranian nuclear issue constantly attracts the attention of the international community. In fact, it is the most serious challenge to the global regime based on fulfilling the requirements of the Treaty on the Non-Proliferation of Nuclear Weapons (NPT). In solving this problem the International Atomic Energy Agency (IAEA) and the UN Security Council are actively involved.
11.02.2014 US MEDIA, POLITICIANS MOBILIZE AGAINST SOCHI OLYMPICS
By Andrea Peters
The Sochi Olympics opened on Friday amid a propaganda onslaught from the US media. Taking its cues from the Obama administration and allied powers in Europe, the American press has sought to sabotage the event and turn it into a humiliation for the regime of President Vladimir Putin.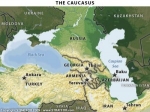 06.02.2014 IRAN SECURITY IN THE SOUTH CAUCASUS
Vladimir Yevseyev
Currently, the security situation in the South Caucasus is determined by three main factors: the deep Syrian crisis, which can still lead to war the U.S. and its allies against Bashar al-Assad, Iran's nuclear problem and long-term consequences of the war in August 2008 with Georgia. The main consequence of the August war was temporary cessation of the NATO enlargement process in the South Caucasus.
30.01.2014 THINK TANKS AND SEPTIC TANKS
We are living in the "Golden Age" of think tanks. There are about 6,000 of these research institutions (3,000 in the U.S) in the world. Politics, military, social policy, economy, technology, culture… they all have scores of think tanks dedicated to them.
23.01.2014 OUR PERCEPTION OF THE NATIONAL AND UNIVERSAL
Mushegh Lalayan
The diversity and differentiation in nature existed from the outset. There is no abstract humankind per se, as it consists of nations and each person with his/her ethnicity is part of the overall humankind. Each nation is unique and inimitable by its spiritual mindset. Humankind is rich with nations and loss of any nation makes it poorer, because a unique natural form of feeling, thinking and expressing is lost, along with a whole spiritual world.
23.01.2014 OPINION: TUNISIA'S LEADERS HAVE FAILED THE DIGNITY REVOLUTION
By Lina Ben Mhenni, Special to CNN
Editor's note: Lina Ben Mhenni lives in Tunis, where she is an assistant of linguistics at the University of Tunis. She is also an activist and blogger, writing as A Tunisian Girl. She has written for CNN as part of its coverage of Davos. Follow her on Twitter. The opinions expressed in this commentary are solely those of Lina Ben Mhenni.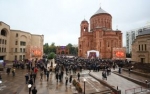 20.01.2014 THE ARMENIAN SCIENTIFIC AND ANALYTICAL COMMUNITY IN RUSSIA
Vahram Hovyan
The Armenian community in Russia is one of the oldest and largest ones among the Armenian diasporas. Some unofficial data suggest that there are about 2.5 million Armenians living in Russia. At the same time, one of the characteristic traits of Russia's Armenian community is its deep integration in the Russian society.
16.01.2014 ARMENIA AND THE CUSTOMS UNION: IMPACT OF ACCESSION
This report provides the assessment of the macroeconomic impact of Armenia joining the Customs Union. Quantitative analysis has demonstrated that, as a result of integration with the CU, the additional growth in Armenian GDP will approximate 4% a year by 2016.
13.01.2014 ANALYTICAL COMMUNITY OF THE DIASPORA AS A POTENTIAL FOR THE COUNTRY: INTERNATIONAL EXPERIENCE
Arestakes Simavoryan
In the works of modern specialists of Diaspora studies an idea is often expressed that diaspora is not only a part of the people living in foreign countries that preserves to a certain extent the spiritual, cultural identity and strives to maintain ties with historical homeland, but first of all it also constitutes a supranational network that has a huge socio-cultural, socio-political, economic and intellectual potential.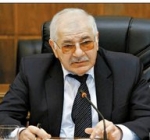 09.01.2014 WORLD TRENDS AND SOUTH CAUCASUS
Gagik Harutyunyan
The overall trend of current changes occurring in the world is transition from the monopole system to a multipolar one, or in another wording, a non-polar world. Obviously, without consideration of this global trend it would be difficult to understand what is actually going on in our region of South Caucasus.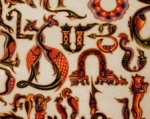 26.12.2013 ARMENIAN STUDIES AS "CRITICAL INFRASTRUCTURE"
Gagik Harutyunyan
Armenian studies are certainly not a purely academic/fundamental science. Branches of Armenian studies – history, literature, architecture, etc., are manifestations of our civilizational identity, which in turn had brought new content to our identity and system of values (and continue doing so).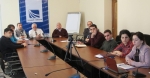 11.03.2014 SEMINAR AT THE NORAVANK FOUNDATION
A seminar for discussion of the research project Diaspora Stances on the RoA Geopolitical Orientations took place at the Noravank Foundation on March 7, 2014.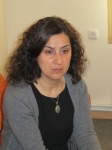 11.03.2014 A MEETING WITH C. ATILGAN
Dr. Canan Atilgan, Head of the Regional Program "Political Dialogue: South Caucasus" of the Konrad Adenauer Stiftung (Germany) visited Noravank Foundation on March 7, 2014.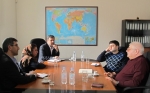 06.03.2014 MEETING AT THE NORAVANK FOUNDATION
On March 5, 2014 Mr. Seyed Jafar Aghaee Maryan, Third Secretary, Embassy of the Islamic Republic of Iran in Yerevan visited Noravank Foundation.
28.02.2014 MEETING AT THE NORAVANK FOUNDATION
A round-table discussion with Jean-Varoujan Sirapian, Founding President, Institut Tchobanian (the Chobanian Institute) of Paris took place in the Noravank Foundation on February 26, 2014.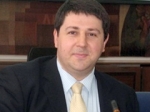 27.02.2014 MEETING AT THE NORAVANK FOUNDATION
A meeting with Marat Terterov, President and Principal Coordinator of the European Geopolitical Forum took place on February 24, 2014 in the Noravank Foundation.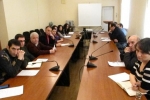 26.02.2014 PANEL SESSION OF THE RESEARCH COUNCIL AND SEMINAR AT THE NORAVANK FOUNDATION
A panel session of the Noravank Foundation research council combined with a seminar took place on February 20, 2014.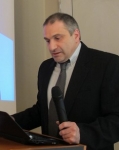 17.02.2014 MILITARY-POLITICAL SUMMARY OF 2013
A seminar titled Military-Political Summary of 2013 took place in the Noravank Foundation. S.Sargsyan, Deputy Head of the Noravank Foundation's Center for Political Studies, presented a report on the subject matter.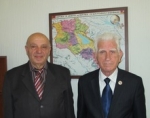 10.02.2014 MEETING AT THE NORAVANK FOUNDATION
A meeting of Artsakh War veterans with colonels I.G. Gukassov and R.T. Bakhshyan took place at the Noravank Foundation on February 6, 2014.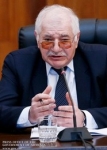 03.02.2014 NORAVANK SCIENTIFIC AND EDUCATIONAL FOUNDATION HOLDS A REGULAR MEETING OF BOARD OF TRUSTEES
"Noravank" scientific and educational foundation board of trustees held a regular meeting today at the Government office, chaired by Prime Minister Tigran Sargsyan.
24.01.2014 GLOBAL TRENDS AND SOUTH CAUCASUS IN 2013
A seminar/discussion on Global Trends and South Caucasus in 2013 took place in Noravank Foundation on January 23, 2014. Gagik Harutyunyan, Executive Director of Noravank Foundation presented a report.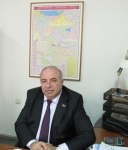 23.01.2014 MEETING AT NORAVANK FOUNDATION
A round-table discussion with Aragats Akhoyan, a National Assembly lawmaker, took place in Noravank Foundation.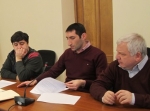 20.01.2014 CENTERS OF ARMENIAN STUDIES IN DIASPORA: ASSESSMENT OF THE POTENTIAL
A seminar for discussion of the results of research program "Centers of Armenian Studies in Diaspora: Assessment of the Potential" was conducted on January 16, 2014 in the Noravank Foundation.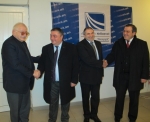 15.01.2014 MEETING AT NORAVANK FOUNDATION
On January 14, 2014 Gagik Harutyunyan, Director of Noravank Foundation, had a meeting with Tengiz Sharmanashvili, Ambassador Extraordinary and Plenipotentiary of the Republic of Georgia to the Republic of Armenia.
26.12.2013 PANEL SESSION OF THE NORAVANK FOUNDATION RESEARCH COUNCIL
A report-back panel session of the Noravank Foundation research council took place on December 25, 2013. The report of the Foundation's activities for 2013 was on the agenda.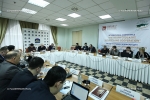 23.12.2013 INTERNATIONAL CONFERENCE ON SECURITY AND COOPERATION IN THE SOUTH CAUCASUS
The International Conference on Security and Cooperation in the South Caucasus organized by Noravank Foundation (Armenia) and PolitContact Political Technologies Centre (Russia) took place in Yerevan, Armenia, on December 18-19, 2013.