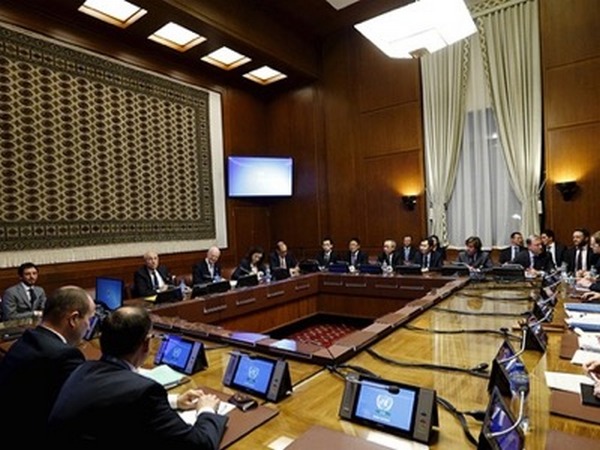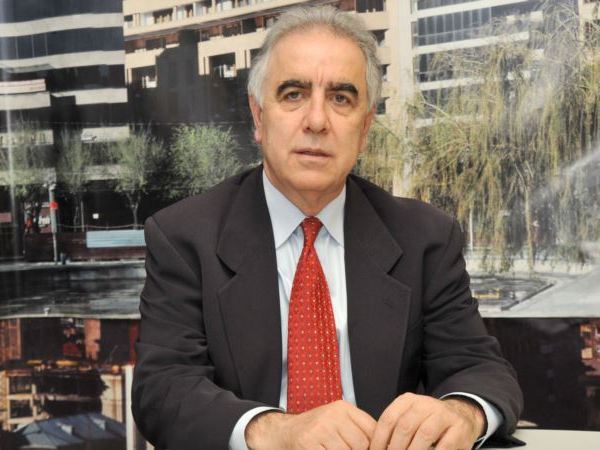 05.02.2016 TOWARDS PEACE IN SYRIA WITHOUT ARMED OPPOSITION
by Thierry Meyssan
The Geneva 3 negotiations for peace in Syria have just begun, after the pro-Saudi opposition finally submitted to the demands of the US State Department and agreed to participate. However, observes Thierry Meyssan, while Washington and Moscow were hoping for a rapid peace agreement in December, and adopted Resolution 2254, the United States are now convinced that the leaders chosen by Riyadh are incapable of exercising power.
26.01.2016 FREEDOM OF EXPRESSION AND ITS LIMITATIONS: CERTAIN THEORETICAL AND PRACTICAL ASPECTS
Aram Aramyan
No known society anywhere has ever adopted a standard of entirely absolute free speech. According to nearly all free speech scholars, freedom of speech has been understood to have limits. Even in today's liberal democracies there is no idea of unconditional free speech. Almost all freedom of speech scholars and philosophers, except very few in the United States, emphasize that freedom of speech is not absolute, neither in theory, nor in practice.
25.01.2016 THE WHITE HOUSE SHOULD ANSWER 10 KEY QUESTIONS ON ARTSAKH
By Harut Sassounian
For many years, the Armenian-American community has been dissatisfied with United States policy on Artsakh (Nagorno Karabagh). Under the guise of neutrality, OSCE Minsk Group Co-Chair James Warlick and his predecessors have put the blame on both sides of the conflict each time that Azerbaijan has opened fire on Armenia and Artsakh. Such an unfair approach has encouraged Pres. Aliyev to escalate his attacks.
22.01.2016 ARMENIAN, GREEK, AND JEWISH PRINTED AND ONLINE MEDIA IN TURKEY
Gevorg Petrosyan
For decades the Armenian, Greek, and Jewish media in Turkey continued to publish periodicals. They currently face problems due to the lack of funds and difficulty to sell printed media in the Internet ere. Decreasing number of Armenian, Greek, and Jewish communities and those who can read in their mother tongue is another problem. Media transformations occurring in the world impact also the media of Turkey's ethnic and religious minorities. These media now pay more attention to online publications or at least boost their presence in the internet.
20.01.2016 ECONOMIC CRISIS AND KONDRATIEV THEORY
Ishkhan Sokhakyan
From the point of view of economists, the crisis in the global market economy (namely that type of economy) is a quite objective and even predictable phenomenon. This is due to economic cycles, including economic crises. What is the reason for this?
18.01.2016 THE GREAT FORGETTING
By Chris Hedges
America's refusal to fund and sustain its intellectual and cultural heritage means it has lost touch with its past, obliterated its understanding of the present, crushed its capacity to transform itself through self-reflection and self-criticism, and descended into a deadening provincialism. Ignorance and illiteracy come with a cost. The obsequious worship of technology, hedonism and power comes with a cost. The primacy of emotion and spectacle over wisdom and rational thought comes with a cost. And we are paying the bill.
15.01.2016 CHANGING SYSTEM OF THE GLOBAL SECURITY AND THE NEW GEOPOLITICAL CONFIGURATION OF THE SOUTH CAUCASUS [ARMENIAN PERSPECTIVE]
Alexander Arutyunyan
Today one may observe the establishment and development of a profoundly new environment of the world policy system and its transformations at the regional levels. There are many epicenters of the world systemic changes, which are on a persistent international agenda. However, there is another strategic area, which despite its state of hiatus, is a potential trigger of geopolitical risks and instability. Many experts agree that together with the other conflict zones the South Caucasus region should not be overlooked as one of the main risky and challenging geopolitical areas for the international order and stability in a short term outlook.
05.02.2016 AL-NUSRA FRONT DESTROYS ARMENIAN CHURCHES IN AL-GHANIMEH VILLAGE
The Al-Nusra Front has destroyed the churches in the Armenian populated village of Al-Ghanimeh to the north of Lattakia, Arevelk reports, quoting the Lebanese Al-Manar TV.
03.02.2016 ANKARA'S COLORFUL MAYOR DECLARES US AMBASSADOR PERSONA NON GRATA – AL-MONITOR: THE PULSE OF THE MIDDLE EAST
Ankara Mayor Melih Gokcek (C) of the ruling Justice and Development Party attends an event as part of his re-election campaign in Ankara, March 18, 2014.
Ankara's colorful mayor declares US ambassador persona non grata.
25.01.2016 GERMANY RADIO: KARABAKH IS SAFER FOR TOURISTS THAN BERLIN
A German radio reflected on the Nagorno-Karabakh Republic (NKR, or Artsakh), and Armenian News-NEWS.am presents below an abridged version of this report.
08.01.2016 ALEPPO'S GULBENKIAN HOSPITAL REEMERGES FROM RUINS OF WAR
With over 80 years of service dedicated to the Armenian nation, the Verjine Gulbenkian Maternity Hospital has been a blessing to Syrian Armenians, and, in particular, to Aleppo Armenians. This was especially true for the scattered remnants of the Armenian deportees, who, after experiencing the bitter fate of the Genocide, were able to form new families on the hospitable soil of the Syrian homeland.
14.12.2015 EXCLUSIVE: SARIN MATERIALS BROUGHT VIA TURKEY & MIXED IN SYRIAN ISIS CAMPS – TURKISH MP TO RT
Islamic State terrorists in Syria received all necessary materials to produce deadly sarin gas via Turkey, Turkish MP Eren Erdem has told RT, insisting there are grounds to believe a cover up has taken place.
14.12.2015 CHRISTIANITY IN BRITAIN DECLINING AS ISLAM MORE POPULAR, REPORT SHOWS
Modern Britain is no longer a Christian country, a report by the Commission on Religion and Belief in Public Life concludes. It calls on institutions to adapt to the nation's increasingly multi-faith and non-religious makeup.
06.10.2015 ARMENIAN COMMUNITY OF CHINA TO OFFER SCHOLARSHIP TO CHINESE STUDENTS TO STUDY AT ARMENIA'S AUA
PRESS RELEASE
The Armenian Community of China signed a Memorandum of Understanding (MoU) with the American University of Armenia (AUA) to provide scholarships for Chinese students to study at AUA. Henri Arslanian, President of the Armenian Community of China, and AUA President Dr. Armen Der Kiureghian met in Yerevan to sign the MoU and solidify the collaboration.
23.09.2015 RUSSIA FUNDS MOSCOW CONFERENCE FOR US, EU AND UKRAINE SEPARATISTS
Conference includes representatives of Sinn Féin and radical black power Uhuru Movement despite Kremlin crackdown on its own dissidents. The Russian government has helped fund a conference in Moscow to bring together separatists from the United States and eastern Ukraine, despite cracking down on its own dissidents.
20.01.2016 PANEL SESSION OF THE NORAVANK FOUNDATION RESEARCH COUNCIL
Panel session of the Noravank Foundation Research Council took place on January 15, 2016. The agenda included the review of the Foundation's activities in 2015 and the report for the "Information security" project for 2015.
29.12.2015 PANEL SESSION OF THE NORAVANK FOUNDATION RESEARCH COUNCIL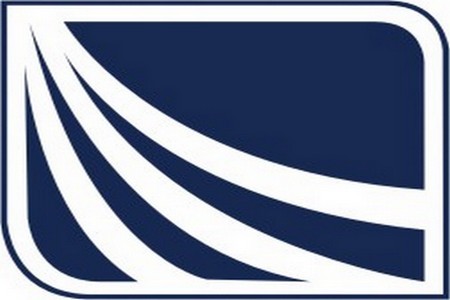 Panel session of the Noravank Foundation Research Council took place on December 24, 2015. The 2015 reports of the Foundation's centers, Research Council and the Program for Ensuring the Activities were on the agenda.
22.12.2015 A RECEPTION AT NORAVANK FOUNDATION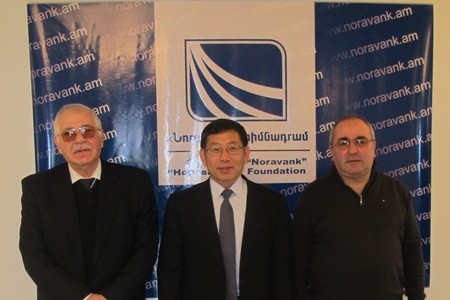 H.E. Mr. Tian Erlong, Ambassador Extraordinary and Plenipotentiary of China in Armenia, and accompanying persons visited Noravank Foundation on December 18, 2015.
17.12.2015 PANEL SESSION OF THE NORAVANK FOUNDATION RESEARCH COUNCIL
A session of the Noravank Foundation Research Council took place on December 15, 2015. The applications for an internal competition for innovative ideas and projects were discussed.
14.12.2015 SOME THEORETICAL AND METHODOLOGICAL APPROACHES TO INFORMATION SECURITY
A round table discussion on some theoretical and methodological approaches to information security was organized at Noravank Foundation on December 10, 2015. The keynote speaker at the round table was Arthur Atanesyan, Head of the Chair of Applied Sociology at the Yerevan State University.
10.12.2015 ON THE ISSUES OF INTRA-CIVILIZATIONAL DIALOGUE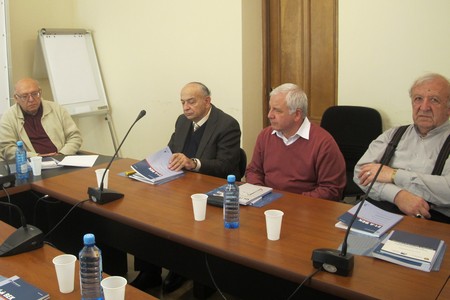 A discussion workshop titled On the Issues of Intra-Civilizational Dialogue took place at the Noravank Foundation on December 8, 2015. Both experts of the Noravank Foundation, and invited specialists participated in the workshop.