by Roberto Quaglia

States struggling against imperialism are probably not sufficiently aware of the importance of having non-aligned media. Yet, obviously, Russia Today, Press TV, Telesur and Al Mayadeen are better at defending freedom than other weapons. For these are indeed weapons we are talking about.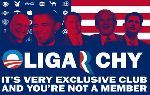 13.04.2015 HOW AMERICA BECAME AN OLIGARCHY
By Ellen Brown
According to a new study from Princeton University, American democracy no longer exists. Using data from over 1,800 policy initiatives from 1981 to 2002, researchers Martin Gilens and Benjamin Page concluded that rich, well-connected individuals on the political scene now steer the direction of the country, regardless of – or even against – the will of the majority of voters. America's political system has transformed from a democracy into an oligarchy, where power is wielded by wealthy elites.
09.04.2015 THE ARMENIAN PORTENT AND PARADIGM: TOWARD RE-CONCEPTUALIZING THE ARMENIAN TRAGEDY
Marek Jan Chodakiewicz
The Armenian Tragedy is a sin crying to the Heavens for vengeance. Not only a horrible crime was committed, but there has been no contrition to speak of. This answers one question: What happened? But the matter is not closed. Christian understanding of the horror is not enough for scholarly and legal reasons.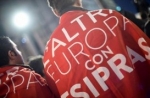 07.04.2015 GERMAN INTRANSIGENCE RAISES SPECTRE FOR 'GREXIT'
Nile Bowie
Greece's newly elected government, led by the leftist Syriza coalition that swept into power in January on an anti-austerity platform, finds itself in a highly unenviable position. Athens is burdened by colossal debt, imminent liquidity problems and a looming banking collapse. What is at stake for Greece now is its very ability to survive economically within the euro-zone.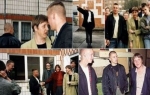 01.04.2015 AMERICAN INFORMATION WEAPON USED AGAINST EUROPEAN POLITICIANS
by Georgy Voskresensky
Anonymous first appeared in 2003 on Internet image boards as a group of hackers espousing the freedom of speech and operating as an «anarchist global digital brain». It is an instrument or a weapon designed to be used in information warfare. It has an advantage - in many cases it is extremely hard to define who exactly used it.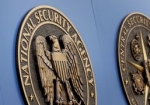 31.03.2015 IT INDEPENDENCE IS NATIONAL SECURITY
Author: Ulson Gunnar
The NSA's "Equation Group" is apparently behind the infection with malware of hard drive firmware on computers used by nations considered "enemies" by the United State. The installation of the malware is believed to have required access to trade secrets of IT manufacturers as well as physical access to the soon-to-be infected computers. Popular Science in their article "The World's Most Sophisticated Malware Ever Infects Hard Drive Firmware" suggests that the NSA intercepted computers in transit through global logistical chains.
31.03.2015 EUROPE ALSO PIVOTS – TO CHINA
By M. K. Bhadrakumar
The decision by Britain to seek admission to the Asian Infrastructure Investment Bank [AIIB] as a founding member apparently took Washington by surprise. The State Department spokesperson admitted that there was "virtually no consultation with the US" and that it was "a sovereign decision made by the United Kingdom."
23.03.2015 WASHINGTON'S WAR ON RUSSIA
by Mike Whitney
"In order to survive and preserve its leading role on the international stage, the US desperately needs to plunge Eurasia into chaos, (and) to cut economic ties between Europe and Asia-Pacific Region … Russia is the only (country) within this potential zone of instability that is capable of resistance. It is the only state that is ready to confront the Americans. Undermining Russia's political will for resistance… is a vitally important task for America."
16.03.2015 DOES RUSSIA POSE A NAVAL THREAT FOR THE WEST IN MEDITERRANEAN?
By Pavel Koshkin
Even though the Kremlin is taking steps to increase its naval influence in the Mediterranean, the West doesn't see this stance as a threat or a return to a Cold War-style arms race.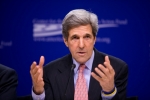 09.03.2015 AMERICA'S 'WEAPONIZED' DIPLOMACY IN UKRAINE
James Carden
Thirty years ago, the historian and diplomat George F. Kennan published a seminal essay in Foreign Affairs titled "Morality and Foreign Policy" in which he decried the stubborn tendency of the stewards of American foreign policy to treat every problem of geopolitics that arises in the course of human events as soluble, and what's more, soluble by the American government.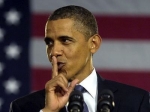 05.03.2015 THE FUTURE OF THE MIDDLE EAST
by Thierry Meyssan
For several months, Barack Obama has been trying to change US policy in the Middle East in order to eliminate the Islamic Emirate with the help of Syria. But he cannot do this, partly because he has been saying for years that President Assad must go, and secondly because his regional allies support the Islamic Emirate against Syria.
02.03.2015 CENTERS FOR ARMENIAN STUDIES IN THE POST-SOVIET COUNTRIES
Vahram Hovyan
In the ex-USSR, centers for Armenian Studies exist mainly in three countries: Russia, Ukraine and Georgia. In all these three countries Armenian Studies have traditionally been a well-developed scientific discipline. Interest toward Armenian Studies in these countries has been triggered by a combination of several factors, including:
26.02.2015 IS PUTIN'S RUSSIA READY FOR TOTAL ECONOMIC WAR WITH THE WEST?
By: Ron Holland
On February 18, 1943, German Propaganda Minister Joseph Goebbels delivered a rousing speech at the Berlin Sportpalast, asking the German people, "Sind Sie bereit für totalen Krieg?" or "Are you ready for total War?" Germany had planned for Blitzkrieg and a short war and was unprepared for a world war as the combined military forces of the United States, England and the Soviet Union crushed the Reich relentlessly and systematically.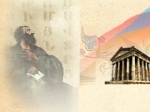 24.02.2015 CENTERS FOR ARMENIAN STUDIES IN EUROPE
Arestakes Simavoryan
Armenian Studies have deep roots and traditions in Europe. In various historical periods reputable centers for Armenian Studies existed at various academic and religious institutions in European countries. As many authors note, development of Armenian Studies coincided with the European Age of Enlightenment and periods thereafter, with Mekhitarist Congregation playing a unique role in it.
20.02.2015 BROKEN HEARTS CLUB: 6 ALLIES AMERICA NEEDS TO DIVORCE
The United States has spent decades collecting allies like many people accumulate Facebook "Friends.
"It's hard to get out of a bad relationship. The good times may be over and the once vibrant connection may be dead, but people just can't admit that it's time to say goodbye.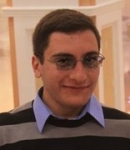 19.02.2015 PROSPECTS OF COLLABORATION BETWEEN ARMENIA AND CENTERS FOR ARMENIAN STUDIES IN AMERICA
Tigran Ghanalanyan
There are about forty centers for Armenian Studies in both Americas: the USA, Argentina, Brazil and Canada. Many of these centers established in late 20th and early 21st centuries are active in scientific research and education. Some of them succeeded in forming certain traditions and some of the newly established ones attempt using unique approaches to Armenian Studies thus enriching the existing kit of the research methods.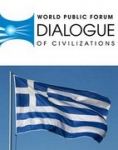 10.02.2015 THE MESSAGE OF SYRIZA'S VICTORY
By Mark Weisbrot, CounterPunch, February 3, 2015
Everyone seems to agree that Syriza's big victory in Greece is a milestone for Europe, which has been plagued by mass unemployment and a failure to really recover from the financial crisis and world recession of 2008-09. But what kind of a milestone will it be? We can get some ideas from focusing on a few key issues, especially economic policy, which remain surrounded by much confusion in the public debate.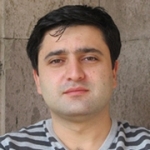 09.02.2015 IRAN AND SOUTH CAUCASUS: THE IMPLICATIONS OF "FREEZING"
Sevak Sarukhanyan
Although Iran and the six powers were unable to reach an agreement on the nuclear issue in 2014, the negotiations will continue in 2015 and there is a theoretical chance that if not full, then at least some partial settlement will be reached in the relations between Tehran and Washington. The article presents the potential corollaries that such arrangement may bring for South Caucasus.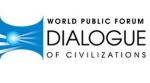 05.02.2015 WAR BY MEDIA AND THE TRIUMPH OF PROPAGANDA
By John Pilger
Why has so much journalism succumbed to propaganda? Why are censorship and distortion standard practice? Why is the BBC so often a mouthpiece of rapacious power? Why do the New York Times and the Washington Post deceive their readers?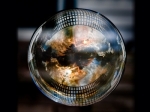 03.02.2015 THE COLLAPSE OF EUROPE?
The European Union May Be on the Verge of Regime Collapse
By John Feffer
Not long after the Berlin Wall fell a quarter of a century ago, the Soviet Union collapsed, the United States squandered its peace dividend in an attempt to maintain global dominance, and Europe quietly became more prosperous, more integrated, and more of a player in international affairs.
02.02.2015 PEACE INSTEAD OF NATO
By Oskar Lafontaine
For the vast majority of the population of the former Federal Republic, NATO has been the guarantor of peace and freedom for a long time. Anti-communism, fuelled by the fear of the Soviet Union operated by the world revolution, the Berlin Blockade and the construction of the Berlin Wall left little room to think about alternatives to NATO.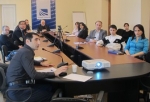 21.04.2015 ANALYTIC CENTERS OF TURKEY
A seminar titled Analytic Centers of Turkey was organized at Noravank Foundation on April 17, 2015. A presentation was delivered by Arestakes Simavoryan, Head of the Centre for Armenian Studies, Noravank Foundation.
20.04.2015 MEETING AT THE NORAVANK FOUNDATION
G.Harutyunyan, Director of Noravank Foundation and S.Sargsyan, Deputy Head of Centre for Political Studies of the Foundation had a meeting on April 16, 2015 at the Noravank Foundation with Krzysztof Strachota, Head of the Turkey, South Caucasus and Central Asia Department of the Centre for Eastern Studies (OSW), as well as Aleksandra Jarosiewicz and Maciej Falkowski, experts of the Department.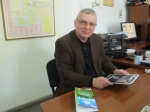 20.04.2015 MEETING AT THE NORAVANK FOUNDATION
A meeting with Krzysztof Szczepanik, President of the European Foundation for Studies of the post-Soviet States (Poland) took place on April 16, 2015 at the Noravank Foundation.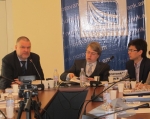 17.04.2015 THE BALTIC COUNTRIES TODAY: CHALLENGES AND OPPORTUNITIES
A conference titled The Baltic Countries Today: Challenges and Opportunities took place at the Noravank Foundation on April 15, 2015. Keynotes were delivered by Aleksandr Nosovich (Russia) and Einārs Graudiņš (Latvia).
17.04.2015 MIDDLE EASTERN ARCHIVES ON THE ARMENIAN GENOCIDE
A seminar titled Middle Eastern Archives on the Armenian Genocide took place at the Noravank Foundation on April 10. 2015. Keynote was delivered by Dr. Vahram L. Shemmassian, Head of the Armenian Studies Program at the California State University, Northridge.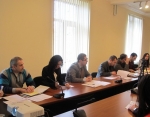 10.04.2015 ANALYTICAL CENTERS OF ARMENIA
A seminar on Analytical Centers of Armenia was conducted at Noravank Foundation on April 9, 2015. The speakers included Karen Veranyan, Senior Expert, Centre for Political Studies at the Noravank Foundation, Sofya Ohanyan, Expert, Amberd ASUE Research Center, and Lilit Margaryan, Expert, Noravank Foundation.
07.04.2015 OPPORTUNITIES OF USING ONLINE COURSES AND DATABASE SOFTWARE AT THE NORAVANK FOUNDATION
A seminar on Opportunities of Using Online Courses and Database Software at the Noravank Foundation took place on April 2, 2015 at the Noravank Foundation. Anna Zhamakochyan, Head of the Educational Centre of the Foundation and Tatevik Karaughlanyan, Expert at the same Centre, made presentations.

31.03.2015 PANEL SESSION OF THE NORAVANK FOUNDATION RESEARCH COUNCIL
A session of the Noravank Foundation Research Council was held on March 27, 2015. The agenda included current activities of the Regional Think-Tanks research project, quarterly reports of the Noravank Foundation's centers and Research Council, other ongoing issues.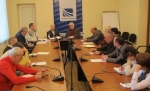 19.03.2015 REGARDING THE MODEL OF ECONOMIC COOPERATION BETWEEN ARMENIA AND DIASPORA
A seminar titled Regarding the Model of Economic Cooperation between Armenia and Diaspora was held at Noravank Foundation on March 17, 2015. Keynote was delivered by Karen Adonts (Moscow).
11.03.2015 IMPACT OF GLOBAL POLITICAL PROCESSES ON THE SITUATION IN THE REGION
A round table discussion with participation of politicians, public figures, scientists and representatives of analytical centers took place at the Noravank Foundation on March 10, 2015.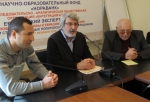 10.03.2015 ARMENIAN STUDIES IN THE USA: ISSUES AND PROSPECTS
A seminar titled Armenian Studies in the USA: Issues and Prospects was held at the Noravank Foundation on March 5, 2015. The keynote was delivered by Kevork Bardakjian, Marie Manoogian Professor of Armenian Language and Literature, University of Michigan.
10.03.2015 MEETING AT THE NORAVANK FOUNDATION
On March 4, 2015 Noravank Foundation hosted a meeting with Namık Kemal Dinç and Ayhan Işık, representatives of the Kurdish Zan Institute for Social, Political and Economic Studies.

03.03.2015 LECTURES AND DISCUSSIONS ON GLOBAL CHALLENGES AND EURASIAN INTEGRATION
The Noravank Foundation, Integration and Development NGO and Eurasian Expert Club organized a lecturing and discussions event titled Global Challenges and Eurasian Integration on February 27, 2015.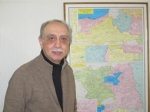 18.02.2015 MEETING AT NORAVANK FOUNDATION
Jean-Varoujan Sirapian, Founding President, Institut Tchobanian (the Chobanian Institute) of Paris, was hosted at the Noravank Foundation on February 18, 2015.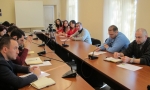 05.02.2015 SEMINAR DEDICATED TO THE PROBLEMS OF ANALYTIC CENTERS OF THE REGION
A seminar dedicated to the problems of analytic centers (think tanks) of the region was organized at the Noravank Foundation on February 4, 2015. Experts from Noravank Foundation and Amberd Research Center took part in the event.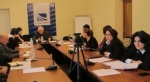 02.02.2015 SEMINAR ON INFORMATION SECURITY PROBLEMS
A seminar titled Information Security was conducted on January 29, 2014 in the Noravank Foundation.
29.01.2015 MEETING AT NORAVANK FOUNDATION
A meeting with representatives of the Armenian Evangelical Church and the management of Noravank Foundation took place on January 26, 2015.
25.12.2014 MATTERS OF INFORMATION POLICY
A round table discussion with participation of politicians, public figures, scientists and experts of analytical centers took place at the Noravank Foundation on December 23, 2014.